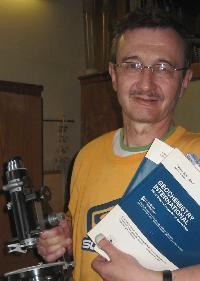 Języki robocze:
rosyjski > angielski
angielski > rosyjski
polski > rosyjski
Igor Romanovich Kravchenko-Berezhnoy
Geologist-Engineer,TranslatorInterpreter



Rosja

Czas lokalny:

05:33 MSK (GMT+3)




Język ojczysty: rosyjski
Niezależny tłumacz pisemny i/lub ustny,

Tożsamość zweryfikowana
This person has a SecurePRO™ card. Because this person is not a ProZ.com Plus subscriber, to view his or her SecurePRO™ card you must be a ProZ.com Business member or Plus subscriber.

This person is not affiliated with any business or Blue Board record at ProZ.com.
Translation, Interpreting, Editing/proofreading, MT post-editing, Training, Project management
Specjalizacja:

Geologia

Górnictwo i minerały/kamienie szlachetne

Przemysł naftowy
Nauki ścisłe (ogólne)
Prawo: umowy
Geografia
Sport/fitness/rekreacja
Inżynieria przemysłowa
Turystyka i podróże
Reklama/public relations
More
Punkty PRO: 44, Odpowiedzi na pytania 16, Zadane pytania 1
Visa, Czek, Przelew, Przekaz pieniężny
Przykładowe tłumaczenia: 2
polski > angielski: Exploration Concession
General field: Technika/inżynieria
Detailed field: Górnictwo i minerały/kamienie szlachetne
Tekst źródłowy - polski
Spółka z ograniczoną odpowiedzialnością, w której udziały kupuje Xyz, posiada koncesję poszukiwawczą, ważną do dnia ęęę, na obszar o powierzchni óóó ha, zlokalizowany w prowincji Abc. Na obszarze objętym powyższą koncesją zostało udokumentowane w latach ąąą złoże pierwiastków ziem rzadkich, przy czym ich zawartość uzasadniała wysokie prawdopodobieństwo możliwości komercyjnego ich wykorzystania.
Tłumaczenie pisemne - angielski
The limited liability company in which Xyz is buying an interest holds an exploration concession valid until ęęę for an area of óóó ha located in Abc Province. In the area covered by the above concession, a rear earth elements deposit was documented in the period of ąą, with the elements' grades making the possibility of their commercial usage highly grounded.

angielski > rosyjski: Alpine Skiing (Olle Larssons's paper)
General field: Inne
Detailed field: Sport/fitness/rekreacja
Tekst źródłowy - angielski
This photo shows a small radius turn produced by short slalom skis on an intermediate to steep slope. This track is the combined result of a short slalom ski (165 cm.) with a modern side cut and good ski technique. The short ski enhances maneuverability. It is easier and faster for the skier to twist and pivot the ski between turns, if necessary. These benefits will result in faster skiing with less chance of skiing out of the racecourse. In the women's World Cup race where these photos were taken only 4 athletes out of 60 starters did not finish. In the second run only 1 athlete out of 30 went out, which also result in increased safety. How is this track made? Skiers must direct their skis on a line that will allow them to carve. The radius of the turn cannot be smaller than the ski can carve and hold. To successfully ski the ideal line it is essential for racers to look a minimum of two to three gates ahead. Do not worry if you cannot clearly see the closest gate when you look far ahead. Peripheral vision provides you with sufficient awareness of its presence. This track tells us that the skier went from one arcing turn to another with little pivoting of the skis between the arc. If the slope is steep it is essential to redirect the skis by pivoting them between turns to obtain sufficient direction change for the next turn. The turn is finished soon after the gate. As the ski was placed on edge the racer did not use excessive muscular force that could have resulted in skidding. Instead, by relaxing she did not interfere with the carving capacity of the ski. It appears that the skier is placing all the pressure on the outside ski. There is no visible evidence of carving on the inside ski.
http://www.youcanski.iringweb.com/3/
Tłumaczenie pisemne - rosyjski
На этой фотографии показан поворот малого радиуса, выполненный на коротких слаломных лыжах на склоне средней крутизны. Эта дуга — результат использования коротких слаломных лыж (165 см) с современным боковым вырезом в сочетании с высоким классом катания. Короткие лыжи повышают манёвренность. Уменьшаются затраты усилий и времени, необходимые на вращение и перенаправление лыж между поворотами, когда это необходимо. Это обеспечивает более высокую скорость и уменьшает риск схождения с трассы. На соревнованиях Кубка мира среди женщин, где были сделаны эти фотографии, только четыре из шестидесяти стартовавших спортсменок не достигли финиша. Во второй попытке выбыла всего одна из тридцати спортсменок. Это говорит и о повышении безопасности.

КАКИМ ОБРАЗОМ ПОЛУЧАЕТСЯ ТАКОЙ СЛЕД?


Лыжи необходимо вести по траектории, позволяющей им резать.

Радиус поворота не должен быть меньше того, при котором лыжи способны резать и стабильно держать. Для успешного прохождения по идеальной траектории необходимо, чтобы спортсмен смотрел как минимум на двое или трое ворот вперёд. Не беспокойтесь, если при этом вы не сможете чётко видеть ближайшие ворота — боковое зрение позволяет удерживать их в поле внимания.

Данный след показывает, что лыжница перешла из одной дуги в другую с минимальным разворотом лыж между ними.

На крутом склоне важно перенаправить лыжи, вращая их между поворотами так, чтобы обеспечить правильный вход в следующий поворот. Поворот заканчивается вскоре после прохождения ворот. В процессе закантовки лыжи, спортсменка не прикладывала излишних мышечных усилий, которые могли бы привести к проскальзыванию. Напротив, расслабившись, она позволила лыжам без помех реализовать свои режущие возможности.

Можно видеть, что спортсменка перенесла всю нагрузку на внешнюю лыжу, и явные признаки резания на внутренней отсутствуют.
http://www.youcanski.com/ru/trenerskaya/korotkaya_istoria.htm

More
Geography, Geology, Ore processing , Soil Surveying
Graduate diploma - Peoples' Friendship University Named After Patrice Lumumba, Moscow
Lata doświadczenia jako tłumacz: 46. Zarejestrowany od: Jun 2011.
N/A
angielski > rosyjski (Diploma of Peoples' Friendship University, Moscow )

N/A
Adobe Acrobat, Adobe Photoshop, AutoCAD, Microsoft Excel, Microsoft Office Pro, Microsoft Word, Powerpoint
Bio
By way of self-introduction


I am a diplomaed geologist and a certified English-Russian translator since 1975 and I hold a Candidate of Sciences degree (informally regarded equivalent to PhD) in Geology and Mineralogy since 1989.

I translate and interpret on many topics (but mostly, geology and economic minerals) in the En <> Ru pair.

I translate in the sphere of geology, mineral exploration, and many other fields -- in the En<>Ru, Pol-Ru, Pol-En, Ukr-En pairs.

My work history comprises over 37 years as a researcher and an explorationist on projects run by Soviet, then Russian and Western entities from NW Russia to Australia and over 36 years as a translator, including for a number of English-language geological journals issued by Russian and US publishers (AGU-published Russian Journal of Earth Sciences, MAIK Nauka/Interperiodica's Geochemistry International -- which you can see on my photo -- and Geotectonics). For several years I headed a major translation project on human rights for KARTA, Warsaw. Since 2002, heading a team of freelancers handling large translation projects for the world's leading mining/exploration companies.

My translations are here illustrated by some examples of my work.

I translate files generated in the majority of applicable formats, and I interpret at negotiations and conferences, on field trips and by Skype or phone.

My work is fast and consistent, and my rates are competitive and negotiable.

I can make a free test translation for you if you provide at least three pages (~1000 words) of coherent text, of which I would translate about half a page. Please accept my apologies for this precaution against those hunting for free translation.

Translating is a thrill and a source of inspiration. In this regard, I would only compare it to geological surveying — a "bloodless hunt" in which the lurking creature of a sought-for rock ( = the right word or phrase) has to be tracked down to its hideout amidst a maze of misleading gullies and precipitous dry creeks (= countless local terms and argotisms, "translator's false friends," occasional author's ambiguities and cumbersome or sluggish wording, and last not least, logic barriers). The prize — an accurate and stylish translation — is often less rewarding than the lucky finds and revelatory ideas suddenly dawning on the "hunter" in the process. The game is thus worth the candles.

While translating your draft project text, or your exploration report, or your GGIS/GIS database, I visualize the operation scenery and become one with the terrain and rock formations, feeling the rock grains with my fingertips, inhaling deeply the tundra or desert breeze, and associating myself with your field team. It is as if I might be sitting somewhere close to your campfire or sampling an outcrop on a nearby creek. Your goal becomes my goal. I press hard and steady to reach it.

I make a reliable teammate; my long-standing clients and colleagues are there to confirm this with their references and letters of recommendation.

Ten użytkownik zdobył punkty KudoZ, pomagając kolegom w tłumaczeniu terminów w kategorii PRO. Kliknij sumę punktów, aby zobaczyć zaproponowane tłumaczenia.



Suma punktów: 44
(Wszystkie punkty w kategorii PRO)


Wiodące języki (PRO)
polski > angielski
28
rosyjski > angielski
8
angielski > polski
4
angielski > rosyjski
4
Wiodące dziedziny ogólne (PRO)
Technika/inżynieria
24
Inne
16
Nauki ścisłe
4
Wiodące dziedziny szczegółowe (PRO)
Górnictwo i minerały/kamienie szlachetne
16
Geologia
12
Metalurgia/odlewnictwo
8
Botanika
4
Militaria/wojskowość
4

Zobacz wszystkie punkty >
Ostatnia aktualizacja profilu
Aug 14, 2011