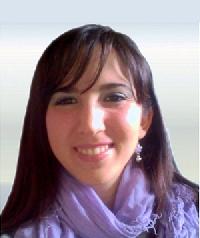 Języki robocze:
angielski > włoski
hiszpański > włoski
włoski > angielski
Valeria Sciarrillo
BA; medical-nutrition-cosmetics EN/ES>IT



Milano, Lombardia, Włochy

Czas lokalny:

11:44 CEST (GMT+2)




Język ojczysty:

włoski
<font style="font-size: 12pt; font-family: Calibri; border: 3px solid #3DCDCD; background-color: #E2FBF5; padding-left: 8px; padding-right: 8px; padding-top: 2px; padding-bottom: 2px;">e-mail: valeria.sciarrillo at gmail.com</font>
Niezależny tłumacz pisemny i/lub ustny,

Tożsamość zweryfikowana
This person has a SecurePRO™ card. Because this person is not a ProZ.com Plus subscriber, to view his or her SecurePRO™ card you must be a ProZ.com Business member or Plus subscriber.

Translation, Editing/proofreading, Project management
Specjalizacja:
Reklama/public relations
Komputery: systemy, sieci

Medycyna (ogólne)

Medycyna: farmacja

Medycyna: opieka zdrowotna

Medycyna: kardiologia

Medycyna: przyrządy

Żywienie

Gotowanie/kulinaria

Kosmetyki, uroda
More
EUR
0 opinii
Przelew
Przykładowe tłumaczenia: 1
angielski > włoski: New antiepileptic drug
General field: Medycyna
Detailed field: Medycyna: farmacja
Tekst źródłowy - angielski


DRUG®: Overview of its Place in Therapy

Epilepsy is a common neurological disorder, characterised by recurrent unprovoked seizures, that affects about 50 million people worldwide.
Antiepileptic drugs (AEDs) are the mainstay of treatment, with the goal of controlling seizures and rendering the patient seizure-free over the long term. However, a proportion of patients with epilepsy become refractory to treatment and fail to respond to a wide range of AEDs, often in combination.
A large, prospective study found that 64% of 470 previously untreated patients became seizure-free during treatment: 47% with their first AED, a further 14% with a second or third AED, and 3% during treatment with two AEDs.
Patients with epilepsy have a higher prevalence of mental health disorders than the general population. Thus, epilepsy imposes a substantial burden on patients, their families, and society in general. There is an unmet need for novel and more effective AEDs.

DRUG® (active ingredient) is a novel once-daily voltage-gated sodium channel (VGSC) blocker designed to selectively target rapidly firing neurons and not those displaying normal activity. DRUG® is rapidly and extensively biotransformed to xxxxxxxx, which is the major pharmacologically active metabolite.
DRUG® has linear and predictable pharmacokinetic characteristics and has an effective half-life suitable for once-daily administration. It has a limited effect on the activity of cytochrome P450 (CYP) isoenzymes or uridine diphosphate-5'-glucuronosyltransferases (UGTs), and is not susceptible to enzyme induction or autoinduction of its own metabolism. These properties are reflected in a low potential to interact with other AEDs or with other concomitantly administered medications.
DRUG® is indicated for use as adjunctive therapy in adults with partial epilepsy, with or without secondary generalisation.

Tłumaczenie pisemne - włoski


FARMACO®: Panoramica del ruolo nella terapia

L'epilessia è un disturbo neurologico comune, caratterizzato da crisi ricorrenti non provocate, che colpisce circa 50 milioni di persone nel mondo.
I farmaci antiepilettici (FAE) sono la componente fondamentale del trattamento dell'epilessia, con l'obiettivo di controllare le crisi e, a lungo termine, di rendere il paziente libero da crisi. Tuttavia, parte dei pazienti affetti da epilessia diventano refrattari al trattamento e non rispondono a una vasta gamma di FAE, spesso somministrati in combinazione.
Un grande studio prospettico ha rilevato che il 64% dei 470 pazienti non trattati in precedenza diventava libero da crisi durante il trattamento: il 47% con l'assunzione del primo FAE, un ulteriore 14% con l'assunzione del secondo o del terzo FAE, e il 3% durante il trattamento con due FAE.
I pazienti affetti da epilessia hanno una maggiore prevalenza di disturbi della salute mentale rispetto alla popolazione generale. Di conseguenza, l'epilessia costituisce un pesante fardello per i pazienti, per le loro famiglie e per la società in generale. Esiste pertanto una necessità non soddisfatta di FAE nuovi e più efficaci.

FARMACO® (principio attivo) è un nuovo bloccante dei canali del sodio voltaggio-dipendenti (VGSC) a somministrazione giornaliera, che agisce in maniera selettiva sui neuroni con frequenza di scarica elevata e non su quelli con attività normale. FARMACO® viene biotrasformato rapidamente e in grande quantità in xxxxxxxx, il suo principale metabolita farmacologicamente attivo.
FARMACO® possiede proprietà farmacocinetiche lineari e prevedibili, e la sua emivita effettiva è idonea alla singola somministrazione giornaliera. Il farmaco ha un effetto limitato sull'attività degli isoenzimi del citocromo P450 (CYP) o degli enzimi uridina difosfato-5'-glucuronosiltransferasi (enzimi UGT), e non è sensibile all'induzione o autoinduzione enzimatica del proprio metabolismo.
Tali proprietà comportano un basso potenziale di interazione con altri FAE o con altri farmaci somministrati contemporaneamente.
FARMACO® è indicato come terapia aggiuntiva negli adulti affetti da epilessia parziale, con o senza generalizzazione secondaria.
More
Cosmetics - Valeria Sciarrillo, Food/Nutrition - Valeria Sciarrillo, Medical - Valeria Sciarrillo, Printing - Valeria Sciarrillo, Science/Genetics, Sports - Valeria Sciarrillo, Textiles/Clothing/Fashion - Valeria Sciarrillo
Bachelor's degree - Università degli Studi di Milano
Lata doświadczenia jako tłumacz: 11. Zarejestrowany od: Oct 2007.
N/A
angielski > włoski (Università degli Studi di Milano)
hiszpański > włoski (Università degli Studi di Milano)
szwedzki > włoski (Università degli Studi di Milano)
włoski > angielski (Università degli Studi di Milano)
włoski > hiszpański (Università degli Studi di Milano)

N/A
Catalyst, Microsoft Excel, Microsoft Word, OmegaT, Powerpoint, SDL TRADOS, Wordfast
CV available upon request
Valeria Sciarrillo popiera ProZ.com's Zasady postępowania (v1.1).
Bio
Language pairs:

-

English

to

Italian

-

Spanish

to

Italian

Other languages I have been studying:

Swedish

,

French

,

Latin

Expertise:

-

Pharmaceuticals:

SPCs - leaflets - clinical trial documentation (study protocols, patient informed consent) - Posters;

-

Medical:

laboratory test reports (blood tests, urinalyses) - Imaging diagnostics reports (MRIs, ultrasonographies, TC scans, X-rays) - discharge letters - Posters;

-

Female health:

Fertility - Birth control - Pregnancy - Parenting;

-

Food/Nutrition:

Food and cooking terminology - Weight control, metabolism, balanced nutrition - Organic/fair trade food;

-

Cosmetics/Beauty:

Body care products - Make-up products - Organic/natural/fair trade cosmetics - INCI terminology;

-

Clothing/Fashion:

New collections' press releases - Knitting/Crochet terminology;

-

Sports/Fitness:

Classical ballet - Swimming/Diving - Figure skating

Education:

-

April 2012 - ongoing: DALF

course (French certification)

-

September 2010 - April 2011: Medical Translation

course (main subjects: medical, pharmaceutical, nutrition). Final evaluation: 100/100

-

September 2005 - April 2009:

BA in

Foreign Languages and Literatures

(

English

,

Spanish

, Swedish)

-

March 2005:

Cambridge FCE examination

-

September 2000 - July 2005:

Scientific High School

Translation experience:

- 2012 - ongoing: Freelance translator/proofreader,

pharmaceutical field

- January 2010 - February 2012: In-house translator and proofreader in a multinational print solutions company

- May 2009 - December 2009: In-house translator and proofreader in two translation agencies specializing in medical and legal translations

Minimum rate:

0.10 €

per source word =

25 €

per hour =

25 €

per target page [1 page = 250 words = 1500 bytes, including spaces], (VAT not applicable) Payment terms: Within 30 days of invoice date. MORE ABOUT ME:

Born and raised in Italy, I learned flawless spoken and written Italian thanks to my wonderful Primary and Middle School teachers.
During High School, Latin studies me realize that my professional future lay in languages. I soon developed a passion for reading English books, watching English films, and checking English websites. In addition, I was able to study a number of scientific subjects (Biology, Chemistry, Science) on which I grounded my passion for Medicine and Biology.

I carried on my Language studies, obtaining a BA at Università degli Studi di Milano where I complemented my practical language skills with solid knowledge of the main Indo-European linguistic structures. I studied Spanish and Swedish, and I further developed my passion for original language literature and culture, in all three languages.

Before going freelance, I worked for three years as an in-house technical translator/proofreader/editor. I translated mainly printers' user manuals and service manuals, display/softkey text, help files, sales guides, and marketing brochures.

After two year's worth of pharmaceutical translations and a Medical translation course, I am now specialized in the medical/pharmaceutical field.

Quality translation needs full understanding of the source language, flawless writing skills, sound knowledge of the subject, good research abilities, and sharp intuition; I constantly work to develop and update these skills, to be able to provide as accurate and flowing translations as possible.

---


(No Peanuts Statement of Principles)

Ten użytkownik zdobył punkty KudoZ, pomagając kolegom w tłumaczeniu terminów w kategorii PRO. Kliknij sumę punktów, aby zobaczyć zaproponowane tłumaczenia.


Słowa kluczowe: professional italian translator, english to italian medical translator, english to italian translator, spanish to italian translator, spanish to italian medical translator, italian medical translator, native Italian medical translator, italian, english, spanish, medical, medical translator, chemical, chemistry, biology, pharmaceutical, healthcare, beauty, cosmetics, nutrition
4 razy
przez 2 gości W ostatnim miesiącu ten profil był odwiedzany
Ostatnia aktualizacja profilu
Jul 12, 2014