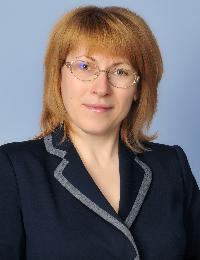 Członek od Aug '11
Języki robocze:
angielski > rosyjski
polski > rosyjski
rosyjski > angielski
Elena Kuznetsova
Synergy of Engineering and Economics



Saint Petersburg, Sankt-Peterburg, Rosja

Czas lokalny:

18:04 MSK (GMT+3)




Język ojczysty:

rosyjski
More than 10 years of experience, CAT-tools, quality
Niezależny tłumacz pisemny i/lub ustny,

Tożsamość zweryfikowana
This person has a SecurePRO™ card. Because this person is not a ProZ.com Plus subscriber, to view his or her SecurePRO™ card you must be a ProZ.com Business member or Plus subscriber.

This person is not affiliated with any business or Blue Board record at ProZ.com.
Translation, Editing/proofreading, Website localization, Software localization, Subtitling
Specjalizacja:

Inżynieria (ogólne)

Statki, żegluga, marynarka

IT (technologia informacyjna)

Marketing/badania rynku

Elektronika

Finanse (ogólne)

Budownictwo/inżynieria lądowa i wodna

Telekomunikacja

Energia elektryczna/energetyka

Rachunkowość
More
Punkty PRO: 507, Odpowiedzi na pytania 261, Zadane pytania 4
3 zapisanych zleceń



More
2 opinii



More
Przelew, PayPal | Send a payment via ProZ*Pay
Przykładowe tłumaczenia: 3
angielski > rosyjski: Project Infrastructure
General field: Technika/inżynieria
Detailed field: Budownictwo/inżynieria lądowa i wodna
Tekst źródłowy - angielski
PROJECT INFRASTRUCTURE
Temporary Works
Temporary works include the following elements:
• Auxiliary and service facilities (water supply, steam, compressed air…);
• Power supply facilities (35 kV line, sub-stations, site distribution…);
• Transport facilities (Baipaza-Sangtuda road, construction roads…);
• External networks and facilities;
• Site improvements (viewing platform, helipad…);
• Temporary buildings (housing, offices, workshops, sub-contractor areas…).
Temporary works are estimated at current replacement cost depending on their actual level of completion. The estimated value is decreased by the cost of remedial works required to make the assets usable for the project. All temporary assets that were required for the 1989 design are included in the valuation.
The facilities evaluated are located at the Sangtuda site, principally in areas 1 and 4 respectively on the left and right bank of the river, in Nurek, and in other locations. The value of the land acquired for the temporary facilities has been evaluated according to the current cost of acquiring the right-of-way for the 220 kV transmission line.
At the Sangtuda site, facilities in Area 1 include:
General Contractor facilities including steel fabricating equipment, material handling equipment (cranes), cleaning and painting area and equipment, a vehicle workshop, concrete yard, some buildings;
Material and equipment storage stores;
Concrete batch plant (15m³/hr capacity);
Compressor building;
Steam production building (boiler plant);
Dormitories and other living quarters;
Administration building;
Various other buildings.
Several of the buildings require some maintenance but are generally usable. The batch plant is usable but requires maintenance. It may require replacement or the addition of batching capacity in order to meet the output required for the planned accelerated construction period.

Tłumaczenie pisemne - rosyjski
ИНФРАСТРУКТУРА ПРОЕКТА
Временные сооружения
Временные сооружения включают следующие элементы:
• Вспомогательные и обслуживающие устройства (подача воды, пара, сжатого воздуха…);
• Источники электропитания (линия 35 кВ, подстанции, распределение электропитания на стройплощадке…);
• Транспортные средства (дорога Байпаза-Сангтуда, подъездные пути…);
• Внешние сети и сооружения;
• Подготовка стройплощадки к строительству (платформа для обзора, вертолетная площадка…);
• Временные здания (жилые здания, офисы, мастерские, зоны субподрядчика …).
Временные сооружения оцениваются по текущей восстановительной стоимости в зависимости от фактического уровня их исполнения. Оценочная стоимость снижается на стоимость ремонтных работ, необходимых для того, чтобы сделать основные средства пригодными для эксплуатации во время проекта. Все временные основные средства, которые требовались для проекта 1989 года, включены в оценку.
Оцениваемые сооружения расположены на стройплощадке Сангтуда, в основном в зонах 1 и 4, соответственно на левом и правом берегу реки, на стройплощадке Нурек, и в других местах. Стоимость земли, приобретенной для временных сооружений, оценивалась в соответствии с текущей стоимостью приобретения отвода земельного участка для линии электропередач 220 кВ.
На стройплощадке Сангтуда, сооружения в зоне 1 включают:
Сооружения Генподрядчика, включая оборудование для изготовления стальных изделий, погрузочно-разгрузочное оборудование (краны), участок очистки и окрасочный участок и оборудование, автомастерская, площадка для выдерживания бетонных конструкций, несколько зданий;
Площадки для хранения оборудования и материалов;
Бетоносмесительная установка (производительность 15м³/ч);
Здание компрессорной станции;
Здание для производства пара (котельная);
Общежития и прочие жилые помещения;
Административное здание;
Прочие здания.
Несколько зданий требуют некоторого техобслуживания, но, в общем, пригодны для эксплуатации. Бетоносмесительная установка пригодна для эксплуатации, но требует технического обслуживания. Возможно, понадобится ее замена или увеличение мощности, чтобы обеспечить требуемую производительную мощность на планируемый период ускоренного строительства.

angielski > rosyjski: Urban water supply
General field: Technika/inżynieria
Detailed field: Inżynieria przemysłowa
Tekst źródłowy - angielski
In order to formulate the M/P, the following characteristics that are specific to Tashkent's water supply were fully taken into consideration:

• Population growth will remain constant according to the M/P. Demand will either remain constant or might even decrease, due to transition to the metered system. Thus, appropriateness of the scale of facilities was analyzed under a scenario where demand will continue to fall.
• Water tariffs in Tashkent are lower compared to the international standards. An increase in tariffs can be considered reasonable in economic terms. However, if the current economic situation of Uzbekistan and the population's income level are taken into consideration, an increase in tariffs might have negative effects especially on those living in poverty. This issue has been fully taken into consideration in the M/P.
• Investment in facilities requires a huge amount of funds. However, significant benefits can be expected from the reforms in business operations and management, which do not require as much funds as in the case of investment in facilities. Therefore, the proposed M/P includes only the minimum required investment in facilities, while focusing mostly on reforms in business operations, management and organization.
• Replacement of pipelines within the city was given special consideration when choosing the projects under the F/S, due to their deteriorated condition, urgent need for rehabilitation, and a high cost-effectiveness of this replacement. In addition, a study was conducted in a selected water distribution area, and the results of that study can be considered as a touchstone for the pipelines replacement in the whole city.

Tashkent City Government stipulated to expand the service area of Tashkent Vodokanal. The approximate service areas and service population are planned by Vodokanal, however the distribution and density of service population and location of major large consumer are not decided. Accordingly, a rough plan including expansion areas were formulated in S 12.1 for reference

Tłumaczenie pisemne - rosyjski
Чтобы составить ГенПлан, необходимо полностью учитывать следующие специфические характеристики водоснабжения Ташкента:

• Рост населения останется постоянным в соответствии с ГенПланом. Потребность в воде останется постоянной или даже немного уменьшится в связи с переходом на систему водомеров. Таким образом, соответствие масштаба сооружений анализировалось при сценарии, когда потребность в воде будет постоянно снижаться.
• Тарифы на воду в Ташкенте ниже по сравнению с международными стандартами. С точки зрения экономики разумным будет рассмотреть увеличение тарифов. Тем не менее, учитывая текущую экономическую обстановку в Узбекистане и уровень дохода населения, увеличение тарифов могло бы иметь неблагоприятное воздействие, особенно на тех, кто живет в бедности. Этот вопрос был полностью учтен в ГенПлане.
• Инвестиции в сооружения требуют огромных средств. Тем не менее, значительных преимуществ можно ожидать от реформы в области деловых операций и управления, которые не требуют столько средств, как в случае с инвестициями в сооружения. Поэтому предлагаемый ГенПлан включает минимум требуемых инвестиций в сооружения, одновременно сосредотачиваясь на реформах в области управления, организации и деловых операций.
• Замена труб в городе была учтена особо при выборе проектов по ТЭО из-за их плохого состояния, срочной необходимости модернизации и высокой экономической целесообразности этой замены. К тому же, изучение проводилось в выбранном районе распределения воды, и результаты данного изучения могут рассматриваться как пробный камень для замены труб во всем городе.

Правительство города Ташкента поставило условием расширение области обслуживания Водоканалом Ташкента. Примерные зоны обслуживания и обслуживаемого населения запланированы Водоканалом, тем не менее, распределение, плотность обслуживаемого населения и размещение основных крупных потребителей еще не известны. Соответственно, был составлен эскиз плана областей, за счет которых расширяется обслуживание, изложенный для справки в S 12.1.

angielski > rosyjski: Assembly Procedure
General field: Technika/inżynieria
Detailed field: Elektronika
Tekst źródłowy - angielski
An electrician can pre-solder the vacuum current feedthrough cables, if they are in stock, so that one side is ready when manufacturing begins. Each cable end takes approximately one hour for an electrician to solder the plug. Some can be soldered as part of the pre-manufacturing process. After it is soldered, each wire is labeled with yellow tape and separated into bins based on the install location.
The lead electrician should make copies of the schematics and separate them according to location. Labels for the cables and the units will be provided with the schematic grouping.
When manufacturing begins, each electrician will be responsible for one section, such as the N11 electrical cabinet or the bearing plate, etc. The prepared cables are also separated and labeled according to the schematic location. The cable connection lists show the to and from location for each cable, as well as the device name, pin number, and the wire/core cable type that will be used.

Tłumaczenie pisemne - rosyjski
Электрик может предварительно спаять электрические вакуумные вводы, если они имеются в наличии, чтобы кабели были готовы к началу работ с одной стороны. Для припоя вилочного контакта к каждому концу кабеля электрику потребуется примерно один час. Часть из них можно спаять в качестве подготовительного процесса к выполнению работ. Когда пайка будет окончена, каждую жилу нужно промаркировать желтой лентой и разделить на пучки в зависимости от места прокладки.
Ведущий инженер-электрик должен сделать копии принципиальных схем и разложить их в зависимости от размещения оборудования. Маркировка для кабелей и агрегатов также будет представлена по группам принципиальных схем.
Во время выполнения работ каждый электрик несет ответственность за один участок, например, шкаф электрооборудования N11 или несущую плиту и т.д. Подготовленные кабели также сортируются и маркируются в соответствии с положением на принципиальной схеме. Перечни соединений указывают место ввода и вывода каждого кабеля, а также название устройства, номер контактного штыря, тип жилы/ кабеля с сердечником, который будет использоваться

More
Radioelectronics
Bachelor's degree - Minsk State Linguistic University
Lata doświadczenia jako tłumacz: 19. Zarejestrowany od: May 2006. Członek od: Aug 2011.
angielski > rosyjski (Minsk State Linguistic University, verified)
polski > rosyjski (Minsk State Linguistic University, verified)
rosyjski > angielski (Minsk State Linguistic University, verified)

N/A
Adobe Acrobat, memoQ, Microsoft Excel, Microsoft Office Pro, Microsoft Word, MemoQ 4.0, QtLinguist, SDL Trados Studio 2011, Powerpoint, SDL TRADOS, SDLX, STAR Transit
http://www.ekuznetsova.com
Elena Kuznetsova popiera ProZ.com's Zasady postępowania (v1.1).
Bio
I have graduated from Minsk State Linguistic University. In addition to linguistic education I completed Postgraduate Studies in Economics at Minsk National Institute of Education. Economic education helps me working with technical projects as far as economics forms an integral part of such projects.

I have been working as a translator for more than 10 years. I have vast experince and you can review my past projects and CV to get persuaded. I use SDL Trados Studio 2011, Trados 7, MemoQ 4.0 and I'm always ready to study something new that helps me to provide better quality of translation.

I believe that success components in my work include personal commitment, dedication and trusting relationship with my customers.

My efficiency is in average 2500 source words per day.

I can submit references upon your request.

Rates are negotiable. Write me and we'll discuss all details.

Ten użytkownik zdobył punkty KudoZ, pomagając kolegom w tłumaczeniu terminów w kategorii PRO. Kliknij sumę punktów, aby zobaczyć zaproponowane tłumaczenia.



---

This user has reported completing projects in the following job categories, language pairs, and fields.





Project History Summary
Total projects
3
With client feedback
0
Corroborated
0
0 positive (0 entries)
positive
0
neutral
0
negative
0




Job type
Translation
3
Language pairs
angielski > rosyjski
2
rosyjski > angielski
1
Specialty fields
Rachunkowość
1
Transport, spedycja
1
Komputery: oprogramowanie
1
Other fields
Słowa kluczowe: Radiolectronics, radar, construction, shipbuilding, IT-technologies, software, localization, marketing, market research, management, business, e-commerce, manual, documentation, letter, financial statements, contracts, water treatment facilities, native Russian, tender documentation, EIA, environment protection, waste management, electrical equipment, electric engineering, toll road systems, software localization, safety, safety management systems, road construction
Ostatnia aktualizacja profilu
Oct 6